WHO WE ARE
Since founded by Yoshio Kubo in 1947, Daiichi Nameplate has been the premier manufacturer of architectural signs, channel letters, house signs, etched metal signs, wooden signs, and metal artworks. Our products are used in a wide variety of fields such as office buildings, residence, museums, concert halls, schools, laboratories, temples, shrines, and national parks. As an example, in 1990's, the monument made by us for welcoming the Winter Olympic Games was elected in the center of Nagano City.
Examples of products are displayed in Japanese pages of this website and for this English page some with Japanese flavor will be introduced to you.
The first are the bridge rails manufactured by us based on the paper cutouts designed by a famous artist, Ms. Kyouko Yanagisawa, portraying a feudal lord's procession and changes of four seasons in progress along the Kiso Valley in old Japan. The bridge onto which the rails are installed is located in the old post town "Niekawa" on the Kiso Kaido Road in Nagano.
The Kiso Kaido Road is one of the old roads connecting then major cities and atmosphere just like old times has been still preserved there.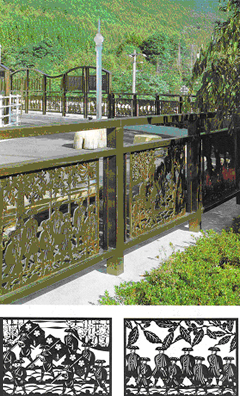 Material: Copper coated with all weather epoxy
Dimensions: 800mm X 500mm
Next, a calligraphy master's artwork is precisely duplicated on the brass plate left by etching technique.
Etching is the process of using strong acid to cut into the unprotected parts of a metal surface to create a design in intaglio in the metal.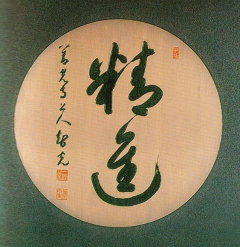 Material: Bronze
Diameter: 36 centimeter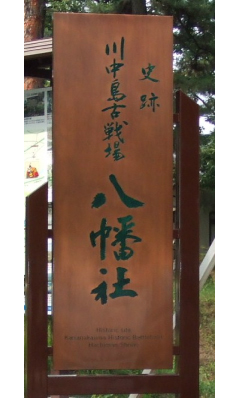 This is the monument nameplate of Hachiman Shrine built in the historic site of the old Kawanakajima Battlefield, Nagano. This monument is made of bronze and letters are etched into the surface. Dimensions are 2.6 meter high and 86 centimeter wide.
Many historical sites like national parks and famous temples and shrines employ our products to keep their names and history last as ever.
This brass product is a metal copy of a famous artist's calligraphy in Kanji, the translation of which is "Respect God, Love people". The metal base is pear skin finish of dense sprinkling of black paint powder with golden frames and the letters are made of polished brass cutouts. The thickness of a letter is as much as 1.5cm, which gives us massive and premium impression. This kind of products is suitable for temples, shrines and also good for artifacts. Dimensions: 37cm X 115 cm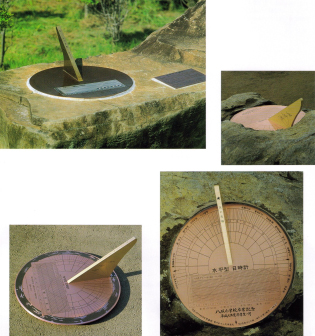 We also make sundials. Measuring the time with a sundial needs the precise latitude and longitude of the location where a sundial is set.

Dials are made of copper and styles are of bronze. Diameters in right pictures are approximately 1 meter.
We are bilingual in Japanese and English and looking for good business partners abroad for importing and exporting mutual designs and products.

Contact Information
E-mail: contact@daiichi-name.jp
Phone: 01181-26-285-2141
Fax: 01181-26-285-3321
Address: 424-1 Nakahigano Inasato Nagano-shi, Nagano, Japan